Description

Product Summary:
A Go To Market (GTM) strategy is a relatively short term, step-by-step map that focuses on launching one specific product, service, expansion or venture. This playbook will help enable you to engage with a new market or simply present a new idea to your existing client base. Developing a Go To Market (GTM) strategy allows B2B firms be much more focused in their approach.
This playbook will walk you through defining the purpose of your Go To Market (GTM), who your targets are, what you are selling, how to position yourself to those targets through sales and marketing, and how to time the launch.
Go To Market (GTM) planning will help you gain stakeholder alignment and commitment to deadlines. It will help increase the chance of a successful launch and help establish a plan for growth.

Time to Complete:
1 Week
---

Building Block of Growth:
Sales
Other Related Enablers of Growth:
Sales Enablement
"Trusted Advisor" Positioning
Marketing Processes
---

Format:
PowerPoint, Excel
---

Number of Pages:
55 Pages

Impact/Effort Scoring: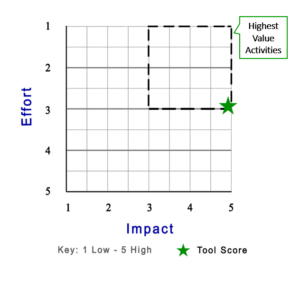 Score Summary:
Developing a Go To Market (GTM) strategy is extremely helpful in growing your company and creating repeatable, scalable processes that align your firm cross-functionally.
——————————–
The score highlights mid to high level effort to build a Go To Market (GTM) strategy. It requires an extensive work to develop one, but the result will be an informed, successful strategy that helps you drive pipeline and convert customers.