$29.00
Sales Segmentation
Description

Product Summary:
Traditionally, salespeople or firms engage in guesswork, gut feelings and broad generalizations of their market when completing sales segmentation exercises, and then leave it up to individual salespeople to prioritize which prospects to call on. We have developed a systematic and proven approach in this playbook.
Your business growth shouldn't be left to chance. Adopting an in-depth and analytical approach to sales segmentation is the only way B2B firms can flourish in today's market. Data-driven sales segmentation uses your unique set of criteria/weighting and brings in detailed market data to provide you with a complete picture of your target audience. Scoring prospects allows you to compare them against one another and then prioritize according to the likelihood that they will purchase your product or service. Data-driven sales segmentation is all about finding your firm's sweet spot to dramatically increase your close ratios and results.

Time to Complete:
Less than 3 weeks
---

Building Block of Growth:
Sales
Other Related Enablers of Growth:
Sales Processes
Sales Planning
---

Format:
PowerPoint & Excel Spreadsheet
---

Number of Pages:
37 Pages

Impact/Effort Scoring: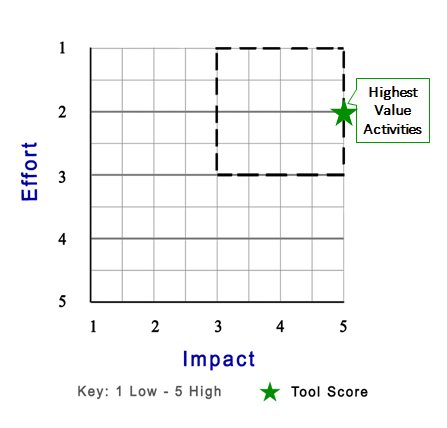 Score Summary:
There are typically three drivers of sales revenues: sales segmentation, better sales talent, and expanding the sales force. The most effective is sales segmentation which can yield 30-50+% in annualized sales growth.
------------------------------------
There is little time investment needed to develop your data-driven sales segmentation strategy and most B2B firms complete this task in less than 3 weeks.
Tool Video Preview
Additional Information
WHAT THIS PLAYBOOK IS
Sales segmentation is the largest driver of sales growth for B2B firms. Having an accurate prediction of potential customers means you will no longer have to waste time and resources on low-quality prospects or potential clients who do not value what you can deliver.
The approach walks you through how to use various criteria and weightings to identify detailed buying behaviors and client characteristics, incorporate data into your scoring, and ultimately generate a final list of prospects with scores from highest to lowest priority.
WHAT A PLAYBOOK IS NOT
B2B firms' sales executives, directors and staff
Businesses looking to develop a robust data-driven sales segmentation approach.
B2B firms that want to identify their sweet spot using real data.
HOW TO USE THIS PLAYBOOK
This Playbook outlines how to build a successful data-driven sales segmentation strategy.
It shows you how to develop insights and better target potential customers in your sales process.
Follow the process outlined in this playbook.