$79.00
Balanced Scorecard and Reporting
Description

Product Summary:
Reporting is an important part of running a B2B firm. This playbook will take you through the necessary exercises to develop a balanced scorecard to organize your goals, objectives, strategies, and tactics. By utilizing this method for your reporting, you will be able to accurately measure if your goals have been met or not, you will obtain a balanced view of your firm's performance, you will facilitate communication throughout the company and lastly, you will be able to demonstrate the relationship between your mission statement and how day to day activities support your goals and objectives.

Time to Complete:
24 hours
---

Building Block of Growth:
Planning
Other Related Enablers of Growth:
SMART Objectives
Reporting & Governance
---

Format:
PowerPoint
---

Number of Pages:
40 Pages

Impact/Effort Scoring: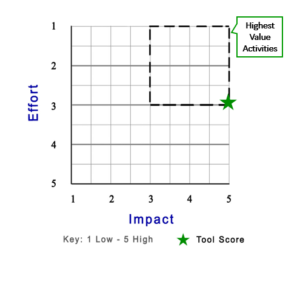 Score Summary:
Developing a reporting strategy is extremely helpful in growing your company and measuring each individuals performance alongside company goals to ensure cross functional alignment.
——————————–
The score highlights mid to high level effort to build our your reporting strategy. It requires an upfront work to develop, however the end result will be both time and money saved, and process you can repeat over and over again.
Tool Video Preview
Additional Information
WHY USE THIS PLAYBOOK
Reporting is a cross-functional process for capturing the degree to which your organization is on track to achieve its goals, follow through on GTM strategies and align its people to the overall company mission.
This playbook will help you to:
Develop a sequence for planning and monitoring firm performance.
Develop a balanced scorecard for your B2B Firm.
Develop a reporting structure for your staff.
WHO IS THIS PLAYBOOK FOR
Businesses looking to align their company through cascading goals
Firms looking to formalize their goals, objectives and metrics.
Firms looking to standardize their reporting framework.
B2B firms looking to develop a balanced scorecard.
Businesses looking to develop a reporting structure for their employees.
HOW TO USE THIS PLAYBOOK
This Playbook outlines how to develop a reporting strategy for your B2B firm.
This playbook is focused on helping you achieve your goals and objectives through measurement. This playbook will help you visualize, execute and monitor your firms performance by helping you develop a balanced scorecard, management reporting and performance review frameworks.