If your need to print stock certificates and maintain shareholder records, our software makes organizing, tracking, and printing certificates as easy as 1, 2, 3. No matter what industry you're in, how many employees you have, or what your profit margin was for the year– if you have public shareholders, you have stock certificates. Even many private companies issue certificates to their investors.  These official pieces of paper were used for centuries to certify an individual's amount of ownership in a company but now have largely transitioned over to a digital format.
However, there are still circumstances that call for the issuance of a physical or electronic stock certificate. Company Expert's Stock Certificate Administration and Printing Solution can assist you. With our solution, you can have stock certificates organized, printed, or electronically produced in no time. Don't need a paper copy but still want a way to organize and track your digital information? This program can do all of that too. How? Well, let's delve a little deeper into just what our online Stock Certificate Administration and Printing Solution can offer you.
What is a Stock Certificate Administration and Printing Solution?
Learn what's behind Company Expert's software solution
The premise of our stock certificate administration solution is to keep things simple–because no one needs more disorganization in their life these days. If you're about to give up in frustration because you can't find a simple solution to creating, storing, tracking, and printing stock certificates, we've got an easy solution. Why not do it all in one place? With Company Expert's solution now you can.
In the past, we offered a comprehensive desktop software program designed to help you keep track of and organize your stock certificates. However, in order to bring more ease and simplicity to business operations, we've just recently launched our completely cloud-based stock certificate solution. That's right, no more software to install and keep updated on your computer. No more worrying about whether or not you have the latest version or whether it can store and track all the stock certificates you have. Now, you can log in and access your secure Company Expert account from anywhere–our solution is now entirely cloud-based for your convenience. From anywhere in the world you can now:
Access your secure account

Organize stock certificates

Track and file stock certificates

Generate reports

Print stock certificates
Who Uses a Stock Certificate Administration and Printing Solution?
Stock certificates are still needed, whether in digital or printed format
Both businesses and law firms can benefit from having an online stock certificate administration program. Chances are if you're reading this article, it's because you are looking for a solution to your stock certificate problem. Either you don't have an organization system in place, or if you do, it's proving to be inadequate. We find that most entities that are on the market for a stock certificate organization program fall into two categories:
Small to medium-size private companies whose investors want paper or electronic copies of share certificates

and maintain the investor ledger
If you're a business owner, you may be asked by some shareholders for a copy of their stock certificates. Although most people prefer to keep things digital these days, it's still a reasonable request. Having a cloud-based stock certificate program that allows you to design your own stock certificates, store them, and print them out as needed seems to be a great way to keep things organized and shareholders happy.
If you're a paralegal at a law firm, you may be all too familiar with stock certificates, and how difficult they can be to type up by hand. This is a tedious and time-consuming process and keeps you away from other billable work. Not to mention it can be incredibly frustrating when you make a mistake and have to start all over again. There's no need to waste your valuable time with this process any longer, especially in our digital world. With an online account, you can type up, organize, and print stock certificates in minutes–even if you make a mistake. Our stock certificate solution will save you time, so you'll no longer dread trying to use excel spreadsheets and mail mergers.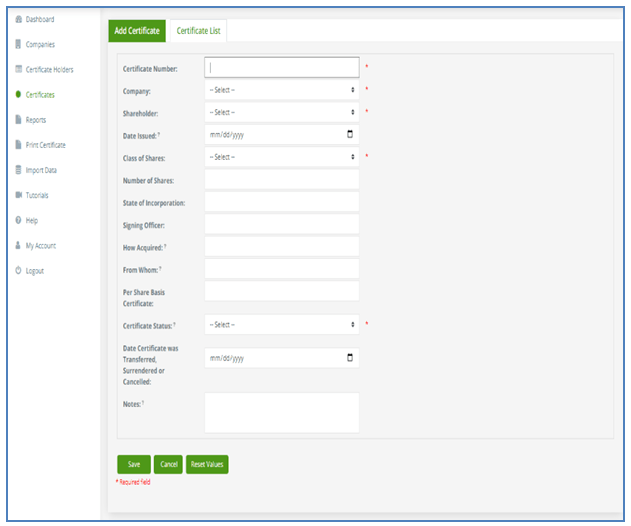 COOs of law firms who track the billable hours of attorneys and paralegals aren't interested in wasted time – having easy to use certificate software to create certificates, track and transfers and maintaining the shareholder ledger is both a time and money saver.  Plus, with a cloud-based solution, paralegals can easily edit, track, and print reports of shares or statements should a client request it. Although many shareholders are fine with digital copies, there are always those clients that prefer to have something they can hold on to. Having access to stock certificates on a digital platform saves time, and frees up paralegals to concentrate on important billable work.
Why Would You Use Company Expert's Stock Certificate Administration and Printing Platform?
So Easy to Install and Navigate
These days, everyone is tied to their phones and computers, and businesses are no different. No one wants to get left behind when it comes to technology, as you might miss out on new opportunities and growth. Almost everything has made the jump into the digital world and the convenience of cloud storage. Organizing stock certificates for shareholders should be no different. When you set up your online account, you'll find our solution exceptionally easy to use.
Once you set up your login information, you're ready to start designing and printing stock certificates from day one. No matter if you have one certificate to issue, or 50, this online solution is designed with the user in mind. Feel like getting creative? Want to stand out from the crowd? With this solution, you can. There are a variety of different designs and sizes of certificates that you can choose from. Whether you need just the basics, or you'd like to experiment with something a little different, Company Expert's solution has got you covered. And remember, with our online solution, you can store and use the templates and information you use most for quick and easy access.
Everything is Online and in the Cloud
It seems like both personal and professional life has moved to the cloud over the past 10 years. We store our photos, our documents, and collaborate with colleagues and clients seamlessly with cloud-based applications. It appears long ago now that we used to have versions of a shared document and lengthy email chains sending and re-sending the same documents each time it was edited. Thankfully, that's now in the past and business today moves at the speed of light. Don't be stuck behind operating with outdated software programs and dealing with the problems of yesteryear.
If you're in need of a stock certificate record keeping and printing solution, you're wasting your time if it isn't on the cloud. How else could you pull up your secure account from any computer and have access to all your files? The ease and convenience of the cloud really make this solution ideal for the modern business owner or law firm. There's no longer any need to waste time with expensive software licenses that can only be installed on one computer. All you need with our cloud-based application is a login and password, and you can start tracking transactions, organizing files, and printing an unlimited amount of stock certificates anytime (and anywhere) you need to.
And did we mention that it's secure? Company Expert has gone above and beyond when it comes to your online security. Each account is password protected with an HTTP connection from our cloud network. The system immediately identifies and blocks unauthorized access, keeping your data secured. It's very important to us to make sure your confidential information is safe and secure.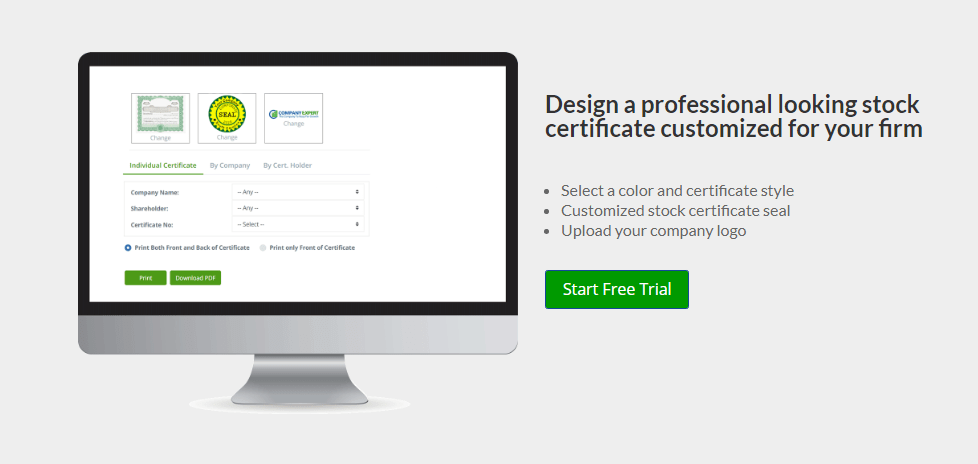 No matter what business you're in, you always want to make sure you look professional.
Why should your stock certificates be any different?
Customize Certificates for Professional Results
No two companies are exactly the same, so why should your stock certificates look like all the rest? This stock certificate solution gives you as much, or as little, creative freedom as you'd like, while still keeping a professional and polished appearance. Choose from nine different stock certificate sizes and three different background colors to ensure that the certificate you're printing out is unique to your business or client.
Did you know that you can also easily add your company logo or corporate seal to each stock certificate? That's right, simply upload your logo and place it where you think it looks best on the certificate. When your shareholder or client receives these certificates, it will not only look professional, but they may ask you how you printed them out so perfectly.
If you choose to change or update your logo in the future, it couldn't be easier to upload the new version and add it to your certificates to replace the former one. You'll never have to worry about throwing out old pre-printed stock certificates with former logos on them again. Now, just update, replace, and reprint.
Track and Analyze Reports
If you're one of those people who want to see the data and base their decisions off of where the data leads you, this solution is for you. Keeping track of numbers and patterns is nice, but it doesn't mean anything if you don't glean useful insights from it. This stock certificate administration solution does more than just design and print paper certificates, it also skillfully tracks a variety of variables and can condense them into a readable stock report or shareholder statement.
If your shareholders or clients request an end-of-year report of the company's stock you can easily login and generate an accurate report in a matter of minutes. Who wouldn't be impressed with a report that lays out exactly how the company did over the quarter, year, or a specific time period? It allows you and shareholders to see how the company is growing, and what decisions lead to progress, and which did not yield the results you expected.
You can also generate a report for each individual stockholder's statements should they request it. If they're curious as to how their specific stock in the company has fluctuated over a period of time, you can easily isolate this information in the system and print them out a customized report. That way it's clear to see the progress of the company while at the same time giving the stockholder confidence that owning stock in your company is a good idea.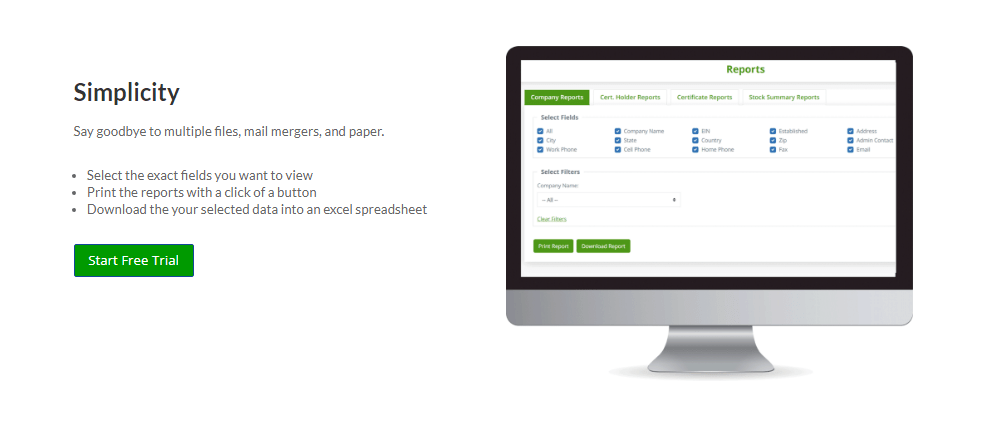 With this solution, it's finally simple to view the data you're looking for and print helpful and professional reports. Gone are the days where your information was stored in multiple files, or in paper form in a desk drawer. Trying to transfer or export data from software to software can be a pain, and sometimes it's extremely difficult to get your stock certificate program to do exactly what you'd like it to do. Not to worry, because this online solution can easily show you the exact fields you want to view and allows you to print the selected reports with the click of a button. Isolate data based on time period or shareholder and print stock reports or shareholder statements with the click of a button.
Need to share reports with someone who doesn't have the Company Expert stock certificate administration solution? Not to worry, just as easily as you can view data and print reports, you can also download and export data into an Excel spreadsheet to easily share among colleagues or partners. The simplicity of this solution is unmatched, giving you the ability to store everything you need in one place, and the power to manage your stock certificates effectively.
Online Solution is Simple to Navigate
We all appreciate it when a system interface is easy to use. No one wants to spend time searching through loads of unnecessary pages to find exactly what they're looking for. And you shouldn't have to resort to the help page just to find something you're going to use all the time. When a system is designed with the user in mind, our stock certificate administration and printing cloud-based application, you'll find just what you need from day one. It all starts with an accessible navigation panel that appears once you're logged in. Your dashboard will be your base, and from there you can access everything you need, including:
All the companies you've attached to your account

All the certificate holders from each company

Generating reports

Printing certificates

Importing data

Tutorials

Help

Adjusting your account preferences
This one-screen user interface makes getting in and completing a task very simple, and can save a lot of time. With this solution you won't have to get used to navigating through a clunky online application, instead, you'll make quick work of organizing, tracking, and printing stock certificates.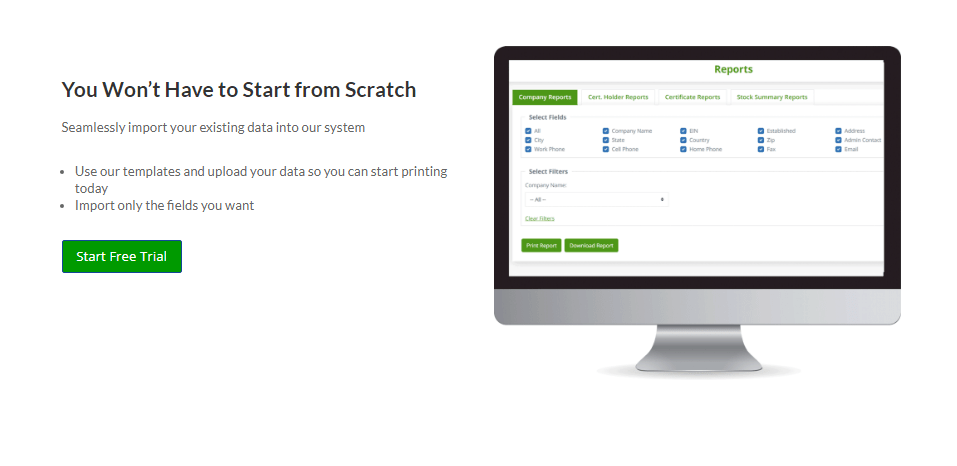 Our solution automates the entire process of stock certificate administration and printing.
Everything can be Automated
Remember when we mentioned earlier how time-consuming and inconvenient it is to have to write out stock certificates either by hand or with a typewriter? Well, you can put both of those methods to rest now that this stock certificate solution is able to automate the entire process. This fully automated stock administration process allows you to login anytime and create a stock certificate (in the size and color of your choosing), add the stockholder's information, put it on your company logo or corporate seal, and then print. It doesn't get any easier than that! Once you've printed, you can then save and store the template for future use, and easily access it anytime in the future.
No need to worry about making mistakes trying to align the certificate with the fields, causing you to start all over again. If there's an issue or you need to make an edit, it's as easy as fixing a Word document–just adjust and reprint. Our lives have been made so much easier by computers, cloud-based applications, and automated processes, why should your stock certificate administration be any different?
Saves a lot of Time
One of the highlights of having a secure, cloud-based, automated stock certificate administration solution is not only can it organize, track, and print certificates, but it can save you time in the process. Everyone wishes they had more time during the day to get everything accomplished. We're constantly looking for time-saving devices and applications that can help us make the most of the time we have each day to get things done.
When it comes to stock certificate administration, no one–from business owners to paralegals, to COOs of law firms–wants to waste valuable time with an inefficient management system. Company Expert's online solution is designed to do one thing–help you manage your stock certificate administration so you can get in, track or print certificates, and then get on with your day.
Writing out stock certificates by hand or using a typewriter wastes time, time which you can never seem to get back! Having all you need to manage your stock certificates all in one easy-to-use solution will not only make a tedious and time-consuming task done quicker, but it will also be organized and trackable–saving your company time and money in the long run.
You Can Choose Your Stock Certificate Administration Plan
Not every business or law firm has the same needs, which is why we feel it's important to offer customers a choice when it comes to their stock certificate administration plan. Company Expert offers five plans, and each provides a range of features. This way, you only pay for what you need, and not for anything that you don't. Our plans range in price from $29 to $597 per year and may include:
Stock Certificate Administration Unlimited

Stock Certificate Administration Lite

Stock Printing Unlimited

Stock Printing Lite

Stock Printing Limited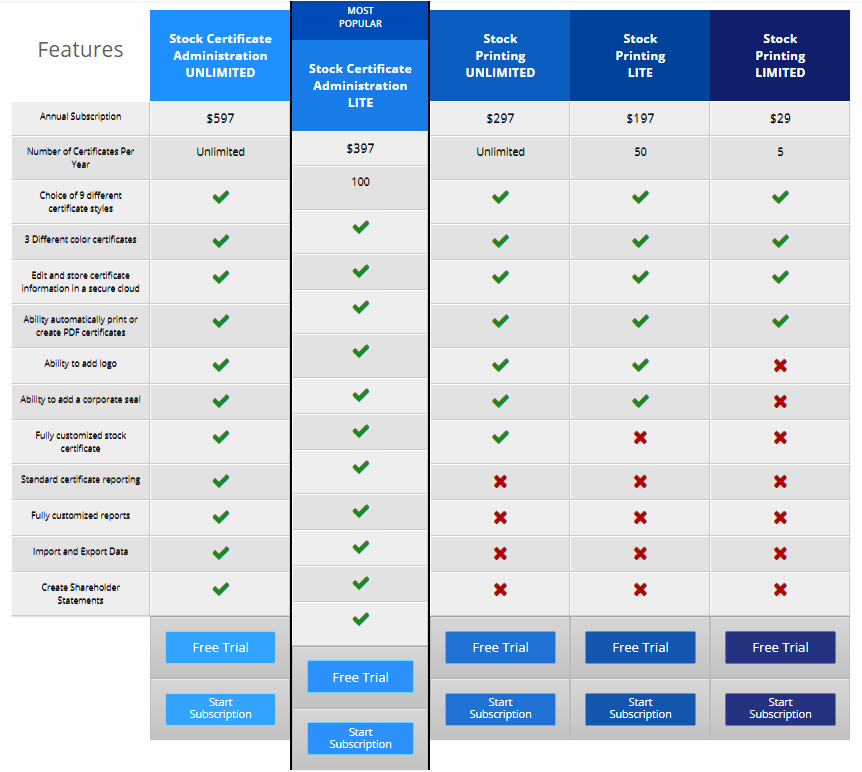 Time and time again our most popular plan continues to be the Stock Certificate Administration Lite, because it offers all the features you use most, such as:
Choice of stock certificate size, color, and style

Create, edit, track, print, and store copies of stock certificates

Ability to add a company logo or corporate seal

Generates customizable reports and shareholder statements

Import and export data
You might not have many shareholders or clients who request to have stock certificates printed out in any given year, but it's always nice to have a convenient, online, inexpensive solution for when you do. Because the number of stock certificates you might need to print in any given year often is not that high, the Stock Certificate Administration Lite gives you access to all the best features of Company Expert's stock certificate administration for up to 100 stock certificates each year. That is a whole lot of stock certificates available to print at your disposal!
Are There Any Drawbacks to Using Company Expert's Stock Certificate Administration and Printing Solution?
Now you know all the reasons why having a secure cloud-based stock certificate administration solution is a great idea for your business or law firm, you might be wondering if there are any reasons you shouldn't use this solution. While we can't think of any reasons having such an easy to use and simple management technology would be a bad idea, you might be wondering if you need one at all. Well, that is a decision that's completely up to you. You know what your shareholders and clients need, and if they want their stock certificates to be printed, it's probably a good idea to have an easy way to accommodate their request.
If you're going to be printing them anyway, why not have an administration solution in place so you can not only print them, but customize them, edit, track, and store your certificates? You can also import your data, export your data, and print reports to share. It's a professional management solution that keeps this process organized and running smoothly. If you know you're going to need to print stock certificates, there couldn't be a more simple way to do so.
How Do You Use Our Stock Certificate Administration and Printing Solution?
Just 3 Steps to Set Up Your Account
With just a few simple steps, you'll be up and running in no time. When we say that it's simple to use the online stock certificate administration and printing solution, we mean it. Whether you've used our previous software versions, have never set up a stock certificate administration account before, or are a pro at this–you can get up and running in just three steps.
Once you've chosen the plan that's right for you, you'll be prompted to set up your username and password. Remember, because this is cloud-based, you can use that same username and password on any device to login and access your account. Once you're at the navigation dashboard screen just:
Add your company name

Add a certificate holder

Add a certificate
That's all you need to get started! Follow the instructions on the screen to customize the style and size of your certificate and add your company logo or seal to complete the professional look. Then just choose the shareholder information and amount of certificates you wanted printed, and that's it. Your templates will be stored in the system for easy future reference, and you can always add or update names or change styles.
If you do get stuck and need help, or want to learn more about one of the stock certificate administration's features, helpful tutorials, training, and support are available right from the navigation dashboard screen. Simply look up your question or browse through our library of video tutorials. If you're not already a pro at this, you will be in no time.
Easily Import Your Data into the Certificate Administration Solution
Chances are you already have a lot of information about your shareholders. But did you know that with this solution you can easily import your existing data so you won't have to start from scratch? Once you're set up with your online account, you can begin uploading your data into the system. It can feel daunting to start a new stock certificate administration program. You might be worried that all the data you've previously collected will be lost and that you'll have to spend time typing in the information all over again. Not with Company Expert's automated solution.
If you have your data stored in another file, you can seamlessly import it into our online solution, ensuring that your data is not only readily available to you but that it's safe and secure. You can use our ready-made templates to import and upload only the fields that you want, making your reports as well as your certificates, completely customized. Once your data has been imported it will be stored until you need to make any edits or additions to it.
Top Benefits of Using Company Expert's Stock Certificate Administration and Printing Platform…According to Our Users
We've talked about why having an online stock certificate administration and printing solution is a great idea for your company or law firm, and we've discussed how simple it is to use. But what really matters is how well our platform works for users in the real world. We've read through feedback and reviews and come up with the top four benefits we see customers of our stock certificate administration and printing solution mention most often.
The Solution is a Huge Time Saver
We all value our time and want to spend it in the most efficient way possible when it comes to business. Whether you have a large number of shareholders, or just a few, having an online solution to design, store, manage, track, and print stock certificates saves a lot of time. You won't have to worry anymore about paperwork and antiquated filing systems. Once all your information is in the system, you can simply create and print whenever you need a certificate.
Changes and edits can be made in seconds, so you can print, get on with the rest of your day, and spend your valuable time doing something else.
Stock Administration is No Longer a Challenging Process
Before a cloud-based application such as this, you had to worry about managing important papers, producing reports, and tracking shareholder statements. If you didn't have a good organizational system in place, it's very easy for information to be lost. With this solution, you can easily import existing data and generate accurate reports for shareholders at the click of a button. You don't have to be a computer wizard to navigate the dashboard either and everything is easy to find and simple to use.
The Results are Professional
You always want to put your best foot forward when you represent your business to your shareholders or clients. This means that you've got to look professional when it comes to stock certificates. Good thing that it's very easy to do with Company Expert's online program that allows you to customize the style, size, and color of your stock certificates. You can also easily upload your company's logo or corporate seal to include on each certificate. Not only do the printed certificates look professional, but this solution also helps you professionally manage them.
Keep all your company and shareholder information stored in one secure place that can be reached from any computer. This way, you can print accurate and professional reports at the click of a button in a completely cloud-based application.
Customizing Stock Certificates and Reports are Key
No one wants to be forced to use a template that doesn't serve their needs or doesn't produce the information that's important to your shareholders or clients. It's good to know that almost everything about this online program is customizable, from the size and color of the actual certificates to the data you pull for your reports. Pick only the fields that are important to you to generate professional and accurate reports and statements. With all your information in one place, it's never been easier to administer a stock certificate program.
In Conclusion
We know that not every business or law firm has a need for printed stock certificates, but if you're still finding that this is an important feature for your investors or clients, Company Expert's online stock certificate administration and printing solution is just what you need. Professional and customized printed copies are just a click away, as are reports and statements. You'll never have to worry about all the time wasted manually preparing certificates and maintaining your shareholder records again. With everything saved and stored securely online, your account is a one-stop-shop for all things related to administering and printing stock certificates.
Ready to get started? Click to access your free trial of our stock certificate solution, then choose a plan that will help save time and money for your business!