Want to know more about how you can create landing pages that make a lasting impression and convert customers? Keep reading because we're going to discuss some important best practices!
Everyone knows that first impressions are very important. But if you're a professional service firm, you know that a first impression can mean the difference between getting that customer/sale or not. This is why it's crucial to understand and use landing pages effectively. You may run a great marketing campaign, but if you can't convert to sales, you may have wasted a lot of time and money. In this article, we're going to delve a little deeper into:
Why landing pages are important

Best practices your firm can follow when developing landing pages

How A/B testing can help you out
Why Landing Pages are So Important
Utilizing landing pages can make a big difference to your bottom line
If you're a professional service firm, you've worked hard to build your brand and website. You know the importance of first impressions, and in order to make a good one, you've ensured that your site represents all that your company can offer prospective customers. But did you know that one of the most effective ways to convert leads into sales is to design effective landing pages for your campaigns? Landing pages are a great way to drive more traffic to your site, and a chance to generate leads, which hopefully translates into more conversions.
But what exactly is a landing page? It is a page that is created specifically for a marketing campaign and is the place where a visitor/future customer lands after clicking on a link from your campaign content. They are the place your prospect will "land" and ideally designed to get the prospect's contact information by registering for more information, downloading a specific piece of highly valuable content, or even decide to purchase the product or service that is driving your campaign.
Many businesses mistakenly use their homepage as the landing page, and in the process lose potential customers. While the homepage does lay out what your company does, it is not focused on a specific call to action like a landing page is. Landing pages are simple, clean and designed to convert the customer. If a prospect clicks on a link in your email and is directed to your homepage, what will they think? Clearly, they were interested in your product, offer, or service–not learning more about your company. Chances are they'll quickly leave. Remember, you want your prospect to convert, and they might not be able to do that easily from just your homepage.
Instead of wasting all the time and money that went into your marketing campaign, ensure that you're getting the conversions you need with a well-designed landing page.
Best Practices for Designing Landing Pages
How you can ensure your landing page is the best it can be
Landing pages are not difficult to create or maintain, and you will see a noticeable difference in the effectiveness of your campaigns once you integrate them into your site. So what should you include on your landing page?
1.    Clear call to action
Making the first impression is crucial, so when the customer clicks through to your landing page, make sure the page is about your call to action and not your company. They're clicking for a reason, and that reason is your product, service, or offer. Make sure this is the focus of the page. You don't want to lose your customer because they can't access what they were looking for!
A landing page is an extension of your business, which means although it is acting for a specific marketing goal, it is still tied to your business and it should reflect that.
2.    Clean design
It can't be stated enough that your landing page should be well-designed and focused on your call to action. You don't want your message getting lost in a sea of extra content, so make sure that this page has one goal in mind – get the prospect's contact information. You don't want to distract the site visitor, so ensure there is plenty of white space. This helps them easily find the promotion for your marketing campaign or fill out the form requesting their information.
This is why homepages should not substitute for landing pages. A customer can easily get lost and wonder where they clicked through to. Keeping the layout clean and easy to read means prospects are more likely to stay.
3.    Compelling images
Although landing pages should be cleanly designed with plenty of space, don't forget how powerful images can be! Including compelling images of your product or satisfied customers is a good way to ensure your prospect feels comfortable making a purchase or entering their information. This could also be a good place to include graphics or even a video explaining more about the offer or giving additional information that might be valuable to the prospect.
4.    Speak to a specific audience and collect the right amount of information
If you'd like to collect information from your visitors, make sure it is enough to help you foster leads in the future. There is a balance between asking too much information and asking not enough. Find the middle ground by asking enough to segment them, learn how you can connect with them in the long term, and still allow them access to the lead generation offer.
Customers who click through to your landing page for a particular campaign can be segmented now that you know what they're interested in. This can help you develop additional campaigns in the future that speak to that specific audience.
When you build a landing page with these parameters in mind, you'll create a space that keeps the prospect on your page and increases conversions.
How A/B Testing Can Help Determine What Works
A/B testing allows your company to test what drives conversions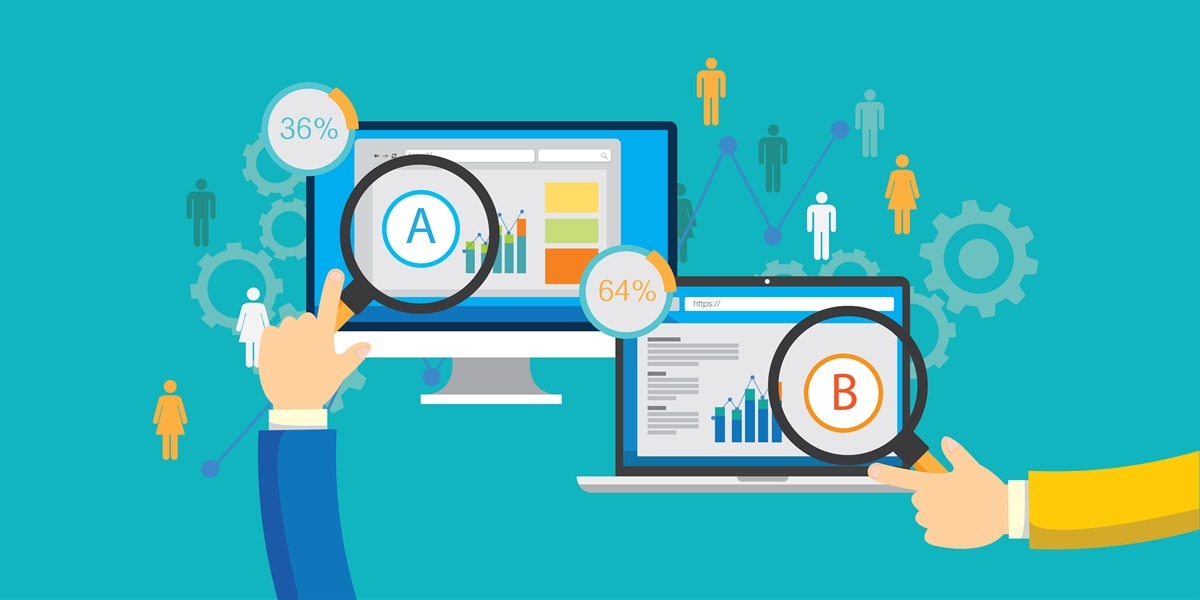 So you've got your marketing campaign in full swing and have set up a landing page for your offer. How do you know that the way it is set up is giving you optimal conversions? Here's where A/B testing comes in. A/B testing shows potential customers two variations of your landing page and allows you to determine which layout drives more conversions. This is extremely helpful for businesses as they can see how one design can drive more conversions and make updates and tweaks as needed.
Why run A/B testing? If you're dealing with low leads and conversions, it's helpful to run A/B testing to reduce bounce rates, get better ROI from your existing site traffic, and keep your site as profitable as possible. A/B testing is completely data-driven, meaning there is always a clear winner and loser, allowing you to choose which option gives you the results you're looking for. The metrics you glean from A/B testing ensure that you're fully optimizing not only your site but your landing pages as well.
Landing pages are an essential part of a marketing campaign, and when done correctly can make the right first impression. Make sure your campaign is complete with specific landing pages to help drive conversions!