The Ultimate Guide to Craft a B2B Go-To-Market Strategy
A well-crafted objective outlining how the company should engage with its market, customers, and prospects is known as a Go to Market plan.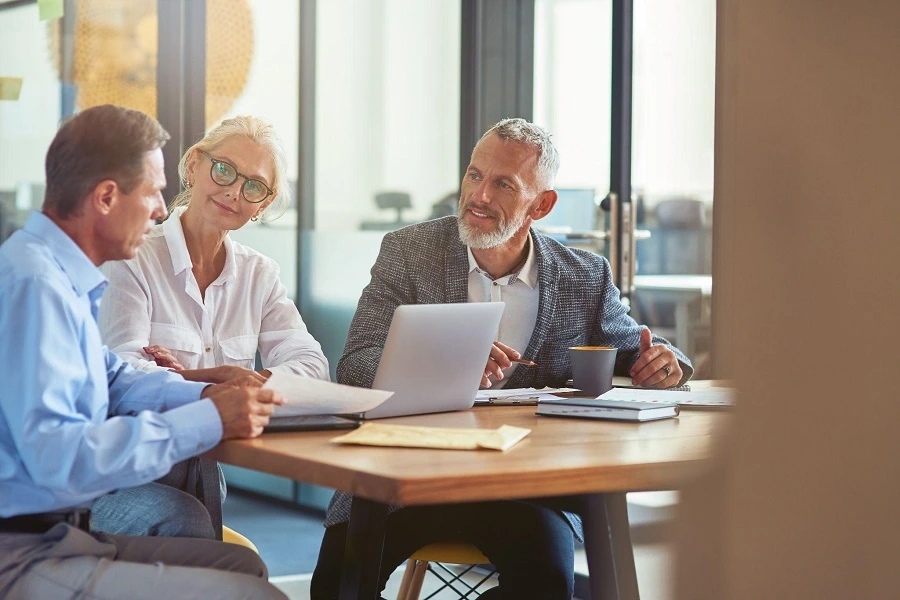 If you're planning to unveil a new product, you must have a thoughtful, actionable, and effective go to market plan to avoid the risk of failure. It is extremely important for the success of a B2B business.
A GTM strategy brings the key elements of a business together, which includes sales, marketing, distribution, pricing, brand awareness, competitive analysis, and more.
Without a well-planned GTM strategy, you might end up chasing the wrong audience or targeting a market saturated with similar solutions. Therefore, if you don't want to waste your valuable time and resources on launching an unprofitable product, you must put effort into crafting a GTM strategy.
Go To Market strategies have been a part of business planning forever. However, marketers often forget that a GTM plan should be constantly fed, managed, and evolved.
Whether you are planning a GTM strategy for the first time, or want to update the existing one, this is a must-read post.
A GTM strategy and its core ingredients should be continuously optimized and evaluated to succeed. This is a complete guide that will help you learn the various aspects of the GTM strategy. Let's dive deep to learn more.
What is a Go-to-Market Strategy? 
A go to market strategy is a well-crafted and step-by-step plan to launch a new product to market. Although each product and market differs, you can use a GTM strategy framework to craft a GTM plan for your B2B firm.
The GTM strategy also helps you define your ideal customers, coordinate messaging, and position your product for launch. This handy roadmap measures the viability of a product, and predicts its performance based on market research.
A GTM plan maximizes the chances of a successful launch and keeps key business units aligned so that you can meet market needs and sell your products effectively. It helps you define the ideal customer, coordinate messaging, and position the product for launch.
However, if your GTM strategy is poorly planned, it could cause your project to flop. For example, in the 1980s, Steve Jobs launched the Apple Lisa computer, which was Apple's biggest flop.
When you develop something new and plan to introduce it to the market, start working on a GTM plan customized to fit your budget and buyer persona in order to achieve success.
The Key Objectives of a GTM Strategy 
Now that you are familiar with a go to market plan, let's look at the key objectives of a GTM strategy.
a) The Go To Market plan aims to create awareness of a product or service.
b) Another important B2B GTM plan objective is generating leads and converting them into clients.
c) Enter a new market with a GTM plan to maximize on your market share, increase customer engagement, and outperform competitors.
d) Protecting the current market share against competitors.
e) Objectives of the GTM plan also include strengthening brand positioning, reducing costs, and optimizing profits.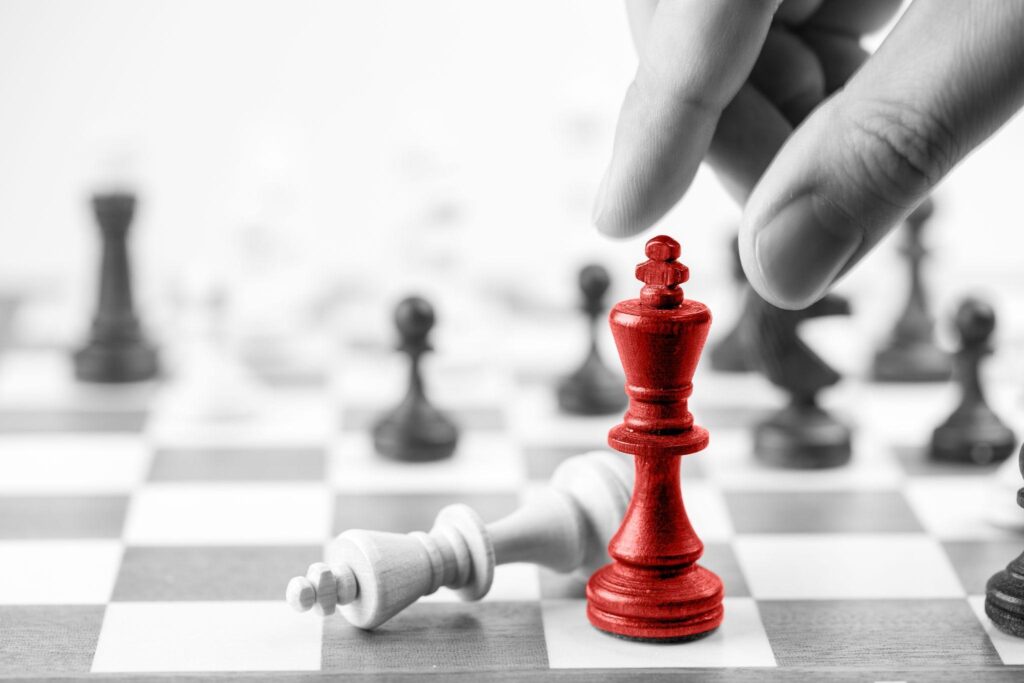 Important Components of a Go T0 Market Strategy
The five core components of a go-to-market strategy include:
 Market definition: Target market to sell a product or service.
 Customers: Target audience within these markets. 
 Distribution model: How products or services will be delivered to the customer.
Product messaging and positioning: The unique value of what is being sold and the primary differences compared to other similar products and services available. 
Price: The cost of a product or service for each customer group. 
When Do Businesses Need a Go To Market Strategy? 
The next important question is when businesses require a GTM plan. So, here's all you need to know about the different situations when B2B firms need a go to market strategy. A GTM plan is important for a B2B firm:
When launching a new product in an existing market.
When launching an existing product in a new market. 
Testing a new product's market for growth. 
When businesses launch a new product or expand their business without gathering adequate information, it may result in a costly mistake, because launches without a plan usually fail.
As a result, the B2B business should use the Go To Market plan template to prepare a GTM plan in all the situations mentioned above to achieve the desired outcomes
The Top Benefits of a Go to Market Strategy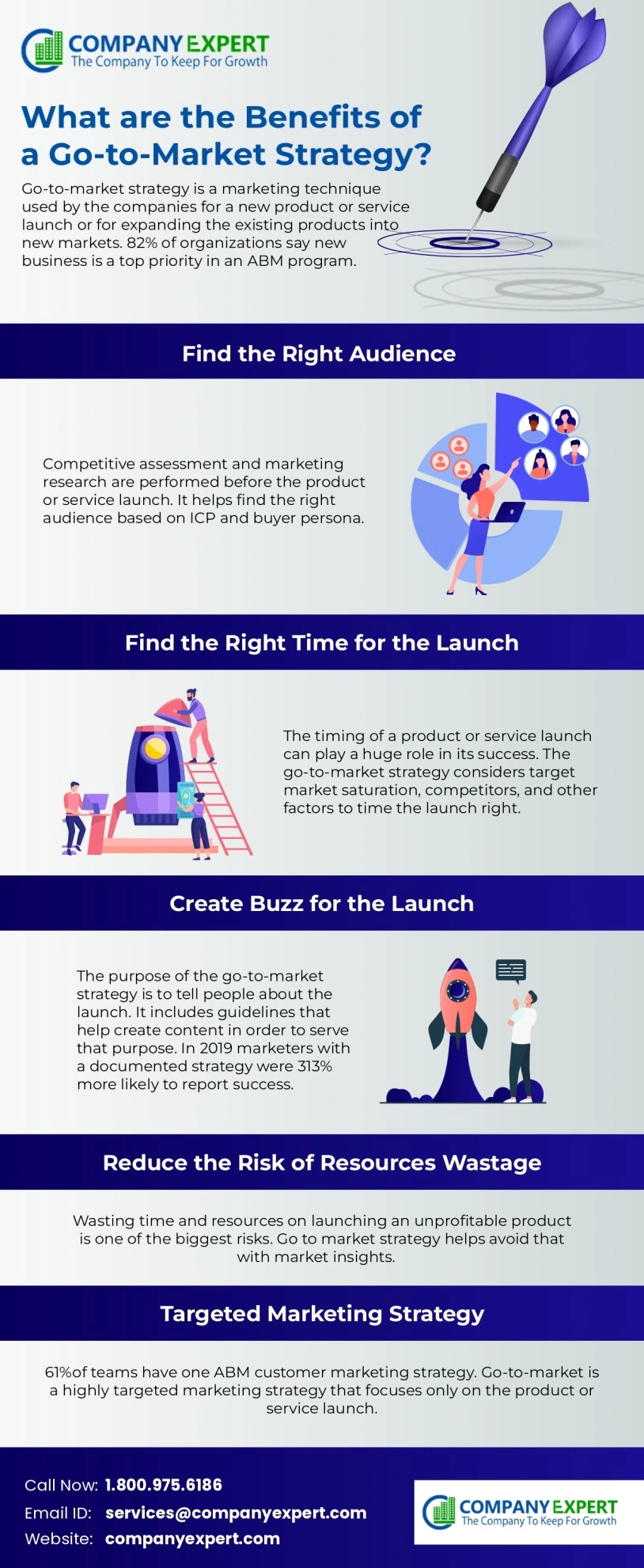 A go to market strategy has numerous benefits as it establishes a path for growth and ensures an effective customer experience. Continue reading to learn more about the top benefits of a GTM strategy for B2B firms.
A go to market strategy is a reliable plan that everyone in your organization can follow and stick to. It will keep everyone on the same path, save time, and keep the stress level lower
Failed product launches can burn a hole in your pocket. Having a GTM plan by your side reduces the chances of mishaps and helps you stay closer to your ideal budget.
When you prepare a GTM strategy, it includes understanding the buyer persona and developing messaging. This helps ensure an excellent customer experience.
A comprehensive go to market plan keeps your firm on the path to success and ensures a successful product launch.
Many people assume that the Go to Market strategy is only for introducing a new product or service to the market. As a result, they don't want to invest their time and money in developing a Go to Market plan. However, this is not true, as you can apply this strategic action plan to new product launches and existing products and services. You can integrate long-term goals into the strategy to establish a path to growth and achieve your business goals.
You can also check out a complete go-to-market guide for B2B businesses to learn more about the GTM plan, its benefits, and more.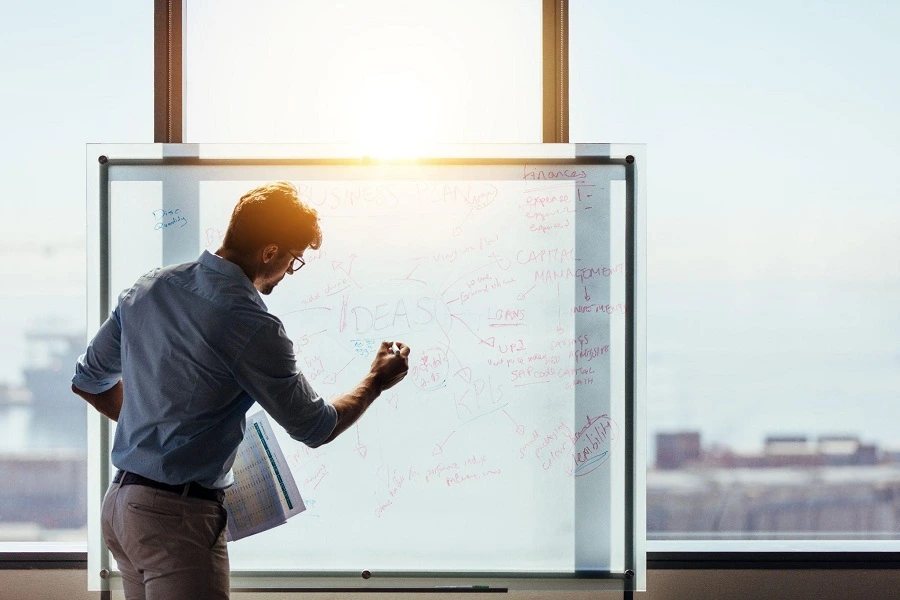 How to Create an Effective B2B Go to Market Plan 
Now that you know the components, objectives, and benefits of developing a GTM plan for your B2B firm, you should now craft a well-planned GTM strategy for your firm. Building a GTM plan is about asking the right questions at the right time.
A good one will delight clients and surprise competitors. Here's a step-by-step guide to build a thoughtful GTM strategy.
1. Identify the buying center and personas
According to Gartner, 6 to 10 decision makers are involved in buying a complex B2B solution. These people together are known as buying centers. Their role may vary depending on the industry, product, and vertical you are selling, so make sure to do your research.
Usually, the people involved in the process are classified as initiators, users, influencers, decision makers, buyers, approvers, and gatekeepers. Before you launch your product, sit down with your team to brainstorm the job titles that your solution could impact.
Learn what these people's problems are and what motivates them to invest in a product or service.
2. Assess the market you are launching into
The next step is to conduct market research to assess the market you are launching into.
You must do competitive market research to understand the strengths and weaknesses of your competitors.
The SWOT analysis can help you assess your own position and the position of your competitors in the market.
When testing your messaging, you should focus on three variables: the channel you advertise on, the audience you target, and the message you share.
You can start advertising on the platforms that your target audience uses, such as LinkedIn, Google Ads, Facebook, and Twitter.
After the initial phase, continue advertising on platforms that show high conversions and stop investing in channels that show low conversions. .
4. Understand the buyer's journey
If you want to understand the buyer's journey, you can look at the sales funnel. It consists of three sections – the top of the funnel, the middle of the funnel, and the bottom of the funnel.
The Flywheel methodology is another popular way to look at a buyer's journey. In this model, a buyer goes through three stages – attract, engage, and delight.
5. Choose sales strategies
Once you have completed the foundation work, the next step is to choose a strategy to introduce your product into the market.
There are four go to market sales strategies – the self-service model, the inside sales business model, the field sales business model, and the channel model. Depending on your industry, target market, and goals, you can also mix and match these strategies.
6. Reduce customer acquisition costs
Customer acquisition cost refers to the amount you spend to gain a new client or deal per $1.
Initially, it will be expensive, but with time you should optimize the process to reduce this cost. Otherwise, you'll lose more money than you make.
7. Define your brand positioning and offer
Brand positioning is defined as how you will position yourself in the market against your competitors.
When it comes to positioning in the market, you should understand your products' key features and benefits. Along with that, keep buyer personas and your company mission in mind to develop your product launch.
8. Identify your key performance indicators
The KPIs are the metrics that will help you determine the success of your GTM strategy. It should be aligned with your objectives and sales goals. For example – conversion is an important KPI for a product launch.
Tracking KPIs helps determine the success of the strategy and can indicate the areas that need improvement.
Keep these points in mind and use the GTM strategy framework to build a go to market strategy. You can also check out our blog post to learn more about how to build a go-to-market (GTM) strategy for a B2B firm.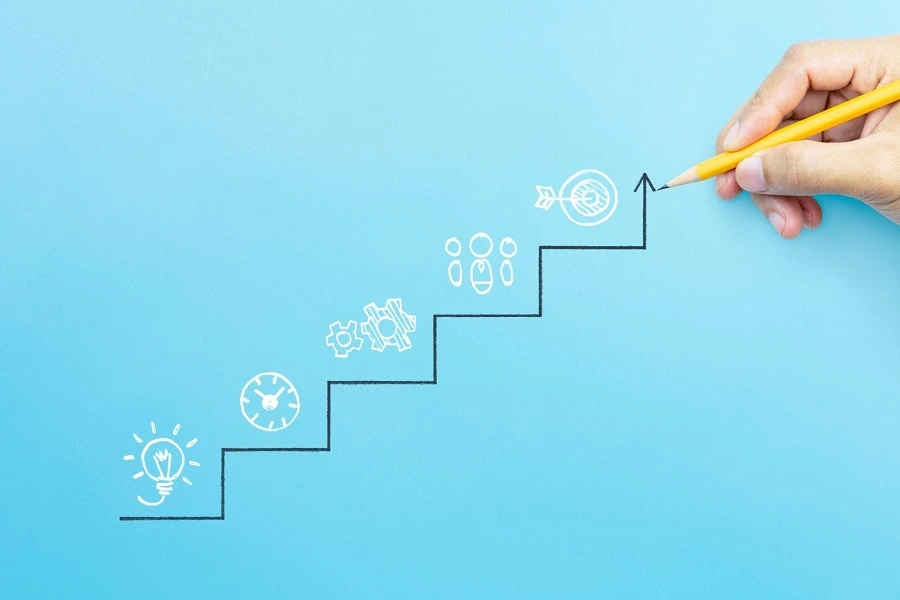 Use Company Expert's Playbooks to Create an Effective GTM Strategy for Your B2B Firm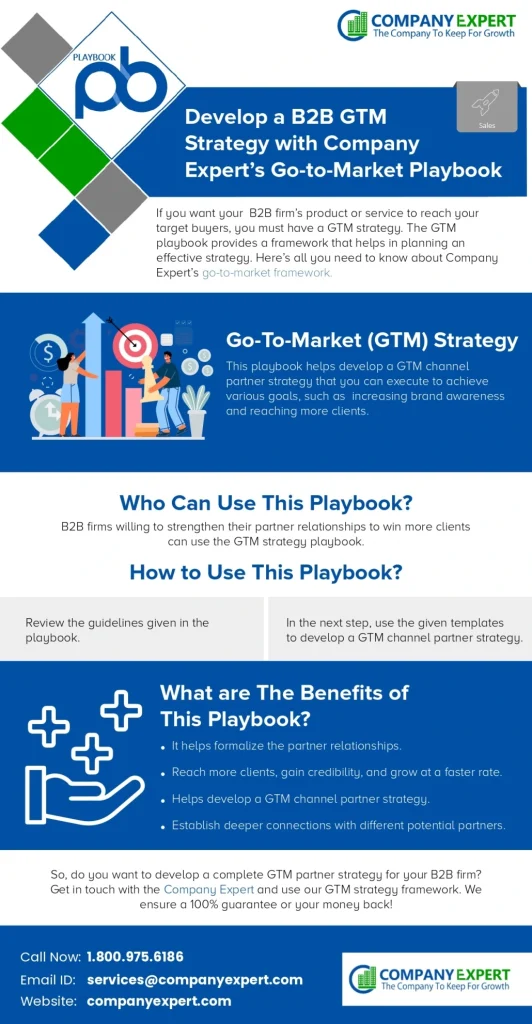 We hope this post helped you understand the important aspects of a GTM plan. If you are planning to acquire customers via a new product launch, expansion, or venture, you can contact
Company Expert. This company is a reputed B2B consulting firm offering business playbooks that develop a winning and comprehensive GTM strategy. The GTM playbook outlines the strategies for developing a go to market plan for your B2B firm.
You can use it to better understand how to market your product or service and increase sales and revenue for your business.
The go to market framework will also walk you through defining the purpose of your GTM plan, who your targets are, what you are selling, and more. You can visit the website to learn more about the playbook and schedule a free initial consultation for more information.